An Examination of a National Movement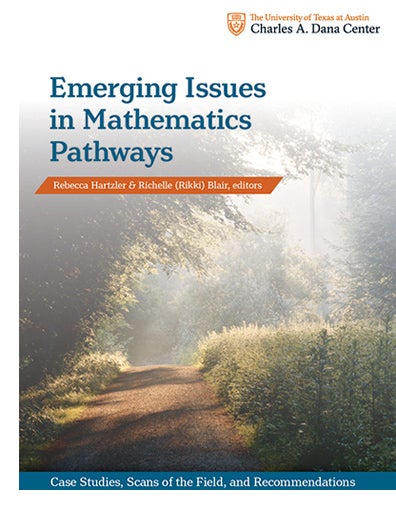 The Emerging Issues in Mathematics Pathways: Case Studies, Scans of the Field, and Recommendations monograph brings together diverse voices to discuss critical topics, raise questions, and examine the future of mathematics pathways. True to the Dana Center's strategy of engaging stakeholders across the system, this publication includes perspectives from college and university mathematics faculty, advisors, administrators, and system leaders along with Dana Center policy analysts, curriculum developers, and implementation specialists. The 15 chapters cover topics in:
Faculty Leadership and Curriculum Development
System, State, and Administrator Engagement
State and Institutional Policy Enabled
Equity and Culturally Reinforced
The DCMP believes that systemic and sustainable change is best achieved through a process that is faculty-driven, administrator-supported, policy-enabled, and culturally reinforced. We hope that each chapter will provide the guidance and inspiration for improving student success in mathematics education through the widespread adoption, implementation, and continuous improvement of mathematics pathways.